Support the 50th Anniversary Celebration of the LGBT Civil Rights Movement!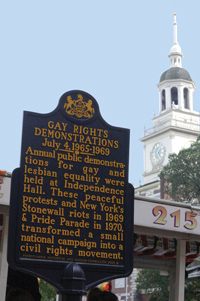 Help make this historic national celebration a success with your online contribution.
 

Please include a mailing address so we may send you an acknowledgement letter.
Equality Forum, a nonprofit 501(c)(3) LBGT civil rights organization, serves as the organizing sponsor of the 50th Anniversary Celebration.
Please make a secure contribution online or make your check payable to Equality Forum and mail it to:
Equality Forum
1420 Locust Street, Suite 300
Philadelphia, PA 19102
Contributions are tax-deductible as permitted by law.