VIP Party
Saturday, July 4, 4:30 pm - 6:00 pm
Stratus Rooftop Lounge at Hotel Monaco
433 Chestnut Street
Philadelphia, PA 19106
MAP
Tickets: $200
For additional information,contact Eddie Amador at 215-732-3378
or e-mail eddie@equalityforum.com
Co-Hosted by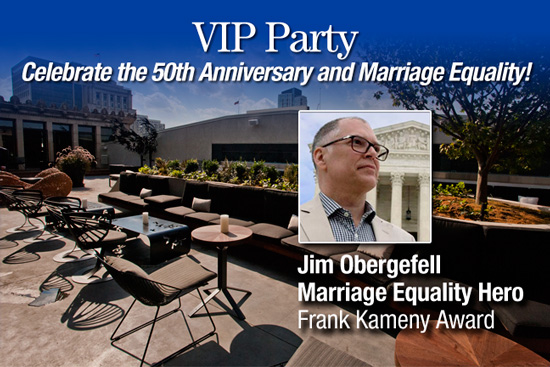 Following the 50th Anniversary Ceremony and festivities on the Fourth, enjoy cocktails, hors d'oeuvres and a spectacular city view at the elegant Stratus Rooftop Lounge, 11 stories above Independence Hall at the Hotel Monaco. James Obergefell will receive the Frank Kameny Award.
Sponsored by

Special Invited Guests Include

Jonathan Allen
Singer (America's Got Talent, Season 8)

Eric Alva
First American soldier injured in the Iraq War

Selisse Berry
CEO, Out & Equal Workplace Advocates

Tamika Butler, Esq.
Co-Chair, National Center for Lesbian Rights

Kate Kendell
Executive Director, NCLR

GoGo Morrow

Singer/Songwriter

Aisha Moodie-Mills
President, Gay & Lesbian Victory Fund

Bishop Gene Robinson
First openly gay Episcopal bishop

Brad Sears
Executive Director, The Williams Institute

Amanda Simpson
Highest-ranking transgender federal employee

Jorge Valencia
Executive Director & CEO, Point Foundation

Jim Obergefell (Frank Kameny Award Recipient)
Plaintiff, Supreme Court Marriage Equality Case
Jim Obergefell is the plaintiff in the landmark marriage equality case Obergefell v. Hodges. A consolidation of four suits from different states, the case was argued before the Supreme Court in late April 2015 and decided on June 26, 2015, making same-sex marriage legal in all 50 states. The federal government recognized same-sex marriage in 2013 when it struck down the Defense of Marriage Act (DOMA) in the United States v. Windsor. The Obergefell case examined state legality. Obergefell and his partner, John, flew from Ohio to Maryland to get married legally as John was dying from ALS. A few months later, Obergefell sued to have his name listed as the surviving spouse on his partner's death certificate.